The established flower beds are the most enchanting and attractive parts of your lawn. It takes a lot of effort, time, and planning to create a colorful, pleasant, and beautiful flower bed. However, this beauty can be at stake due to the existing weeds. If you fail to maintain your flowerbeds, there are fair chances of weeds taking over the area.
These broadleaf weeds not only affect the appearance of your lawn but also causes disturbance in the nutritious distribution of soil. You can use grass weeds killer for flower beds to eradicate this problem. Proper care and maintenance with good quality products can save your flower beds from weed invasion.
Best Weed Killer for Flower Beds
There are numerous, weed killers for flower beds but you cannot use all of them. It is highly dependent on your soil's type, flowers planted in the flower bed, and much more. Thus, you would not want to harm your plants while killing the weeds. So, try and get the best weed killer according to your flower bed's needs.
1. Doctor Kirchner Natural Weed Killer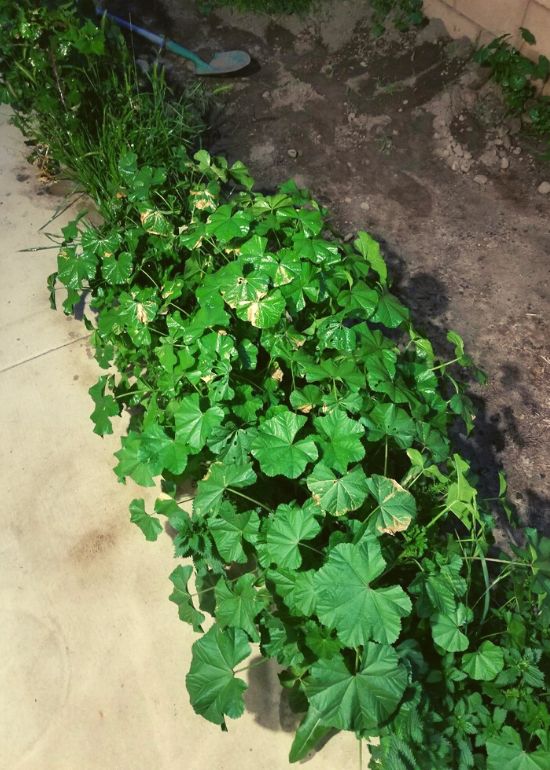 Doctor Kirchner is a weed killer product that has no harmful chemical or hormones induced in it and still, it does the job within hours. For this reason, it is safe for the environment and its dwellers like pollinators and insects. It contains all organic ingredients like ocean salt water, soap, and food-grade vinegar.
Although the product is non-selective weed killer it does lesser harm to plants other than weeds. You can use it anywhere you encounter weed in gardens, walls, or pavements. The usage is simple as it is a ready-to-use weed-killing spray. Make sure you wet the weeds completely for effective and quick results.
Key features
· No hormone-disrupting chemical.
· Non-selective herbicide.
· Volume: 2.5 gallons
Pros
· It has effective and prompt results within 3 hours of application.
· It is easy to use as it requires no mixing.
· It is environmentally friendly.
Cons
· Non-selective manufacturing can cause harm to plants.
· The product is a bit expensive.
Tester's verdict
The consumers of this product have satisfactory reviews regarding the performance and quality of the product. However, according to the formulating ingredients, the users find it to be a bit pricey as it can be prepared at home with some DIY ingredients.
2. Green Gobbler Vinegar Weed & Grass Killer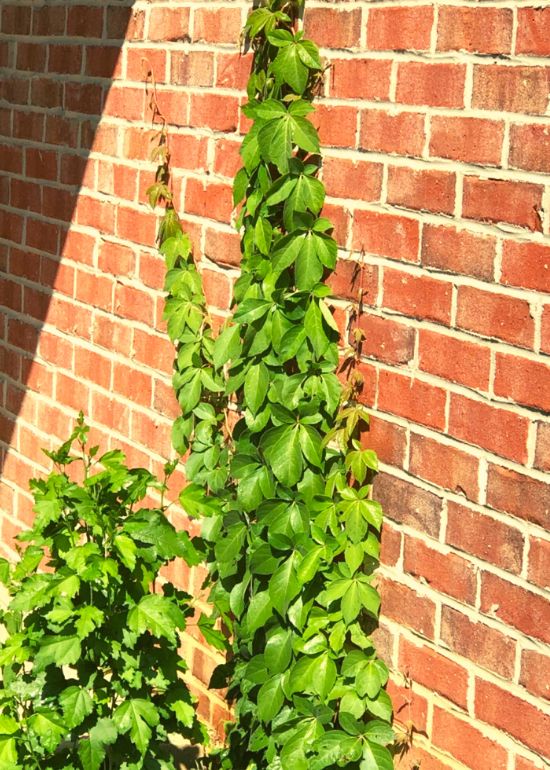 Green gobbler vinegar weed and grass killer is a certified product by OMRI. It is a weed and grass killer that contains no harmful chemicals. the powerful formula of this product has 20% more vinegar than other products which makes it a quick reactor. Also, it is a ready-to-use product, so you need not worry about mixing ratios.
You can use this spray directly on the unwanted weeds, crabgrass, or clover. However, you must cover the entire plant area with cardboard or some other shield to prevent their damage. Make sure, your pets and kids do not roam around that area once you apply the weed killer to the flower bed.
Key features
· Certified by OMRI.
· Volume: 1 gallon
· Glyphosate free.
Pros
· It has a quick action time.
· It has a powerful formula to eliminate weeds and clovers.
Cons
· It can harm the flower plants and dry them.
· It is not safe for pet and human interaction.
Tester's verdict
The testers of this product are of the view are not happy with the non-selective formula. It can burn your flowering plants and affect the soil's condition. However, the performance of eradicating the weeds from flower beds is quite prompt for a non-synthetic weed killer.
3. Compare-N-Save Concentrate Grass and Weed Killer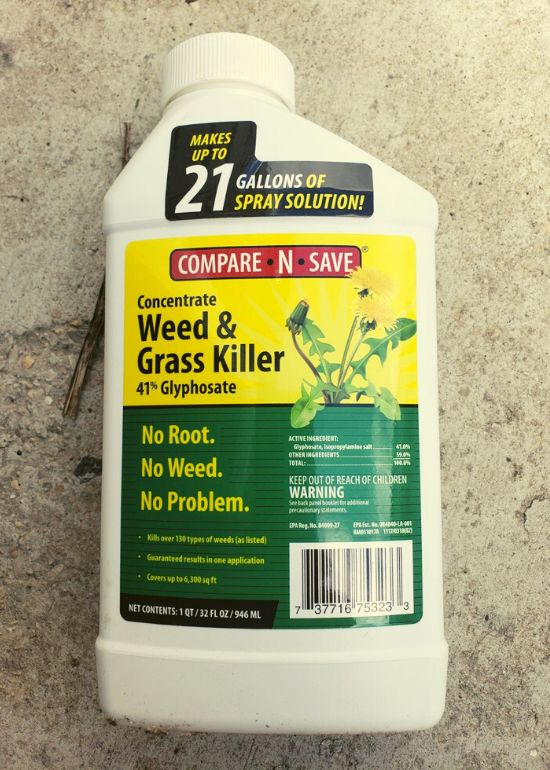 Compare-N-Save concentrate solution helps in the elimination of grass and weed in a few hours. This product has high rates of glyphosate which makes its performance prompt and quick. However, it is harmful to plants if you do not apply it without protection. This product can kill weeds of 175 different types, clovers, and grass that hinder the growth of plants on flower beds.
The grass killer concentrate solution allows you to make the mixture according to your need and the requirements of the area. Do not mistake it as a liquid weed killer spray and pour it directly onto the weeds. Prepare the solution with water and then spray it directly on the existing weeds and grass. however, you can make a stronger solution for the stubborn weeds if they do not go off with the first application. Also, it gets rain-proof after 2 hours of application so you need not worry about washing it off with water.
Key features
· Rain-proof.
· Contains glyphosate.
· Volume: 128 ounces
· Liquid Concentrate weed killer.
Pros
· It can kill up to 175 types of weeds and clovers.
· The solution has higher longevity.
· The supply lasts for about 2 years.
Cons
· Not suitable for a carefree application as it can harm plants other than weeds.
· The glyphosate may hinder while performing as a pre emergent weed killers solution.
Tester's verdict
The testing team is satisfied with the wide weed combating range and killing performance of this natural weed killer. However, the high ratio of glyphosates is a matter of concern as the usage of this product can be limited to post emergent weed killer only.
4. Preen Extended Control Weed Preventer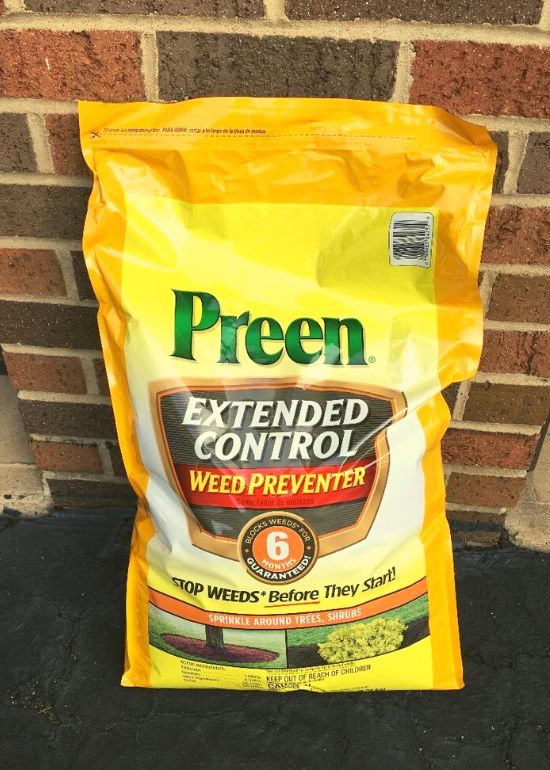 Preen product is an extended control weed preventer is a supreme product for all gardeners and lawn owners. It can be used as a pre-emergent and post emergent weed killers at the same time. For instance, you can add this weed preventer before planting new species and can also apply it after encountering the growing weeds.
It is a selective formula which means it directly targets the weeds and the root cause. The granular structure of the product and the design of the container makes the application quite easy. Although it can be used in a variety of planting areas, however, you should not use it around fruit, nut, and vegetables growing areas as the contents of the product may harm the crops and their nutrients.
Key features
· Selective weed killer.
· Granular form.
· Weed preventer cum killer.
· Weight: 4.93 pounds.
Pros
· It has a longevity period of 6 months.
· It can also kill weeds.
· It has easy application with the flip-top applicator.
Cons
· Not suitable to use around edible plants or trees.
Tester's verdict
The users of this product are all praise for its effectiveness of this product. It gives you long-term results for about 6 months. However, it is harmful and should not be used around vegetative crops, fruit, and nut trees.
5. Preen Garden Weed Preventer + Plant Food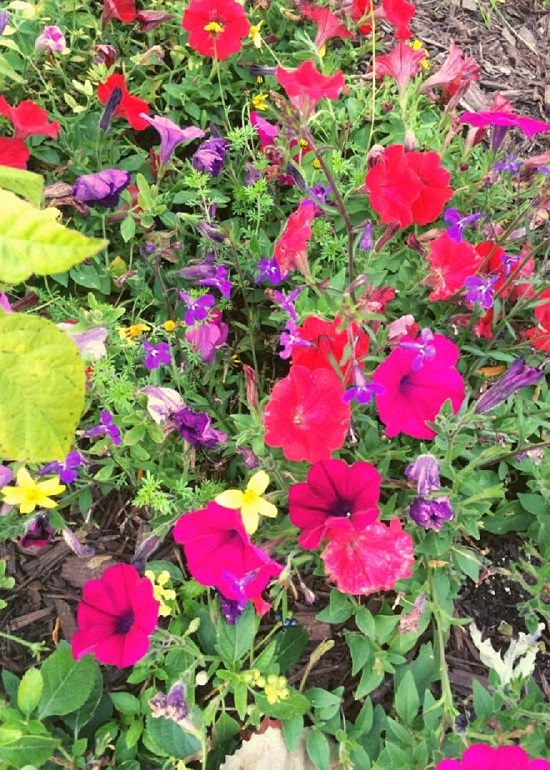 Preen has multi-purpose products that facilitate the users by different means. For instance, this product is a garden weed preventer and plant food at the same time. So, you can add only one product to your soil for weed prevention and fertilization to have healthy blooms on your flower bed.
The results of this weed preventer are long-term as it blocks the weed for about 3 months. Moreover, it is safer to use around vegetative crops and fruit trees. The usage of this product is quite easy with the flip-top design of the bottle. Make sure you water the area after applying the granules to create a stronger barrier for weeds.
Key features
· Granular weed preventer.
· Plant food cum weed preventer.
· Weight: 5.625 pounds.
Pros
· It is safe for other plants.
· Its results last for up to 3 months.
· It can be used any time around the year.
· It can be used around fruits and vegetables growing areas.
Cons
· It has high rates of phosphates which may disturb the nutrient levels of the soil.
Tester's verdict
The consumers' reviews are full of positive remarks. They find this product effective not only for weed prevention but also as plant food. It helps block the weed growth for around 3 months while providing nourishment to the plants. However, the higher ratio of phosphates in this product makes the users a bit concerned as it can affect the entire plant growth and soil's nutrient levels.
6. Compare-N-Save 016869 Concentrate Grass and Weed Killer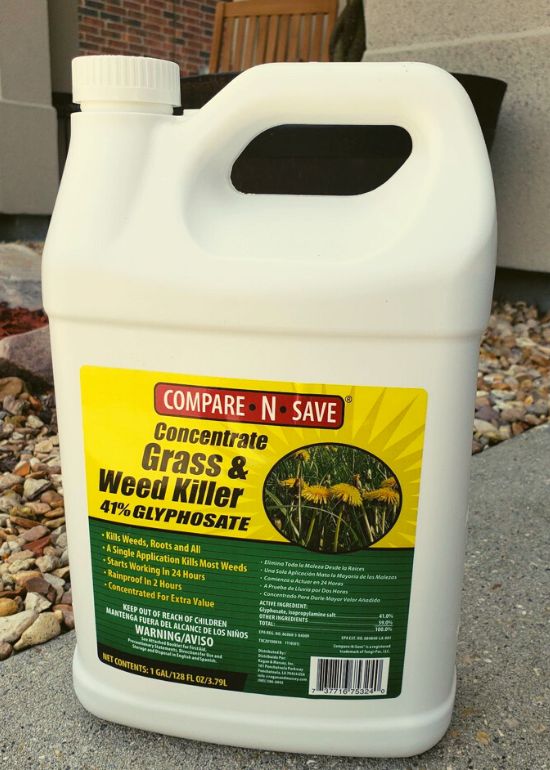 Compare-N-Save 016869 is yet another competing grass killer product in the weed control market. The concentrated solution will help you make the mixture according to your requirement and the yielding area. Moreover, the product will last you for a long.
This product is capable of killing the weeds to the roots to prevent the frequent growth of weeds. Despite the higher glyphosates in this grass killer, it leaves no residue on the surface. Thus, it is among the best weed killers as it acts promptly in just a few hours.
Key features
Volume: 128 ounces.
Concentrated Glyphosate
Pros
It leaves no residue on plants and soil.
It kills weeds to the roots.
Cons
The glyphosates limit the product as a post-emergent weed killer.
Tester's verdict
The testers of this product have experienced visible results in few hours by killing most of the weeds. However, the concentrated ratio of glyphosates will not make the product work as pre-emergent weed preventer.
How to Pick Best Weed Killer for Flower Beds
When buying the right weed killer for flower beds you need to consider a few things. For instance, the type, form, and effectiveness of the weed killer. Following is the detail on how to pick the best weed killer for flower beds.
Type
There are different types of weed killers in the market. For instance, selective and non-selective weed killer. You need to be mindful of this difference if you do not want to harm your desired plants.
The selective weed killer as the name indicate works on the selective plants or weeds. Its toxic traits are effective on common weeds, and broadleaf weeds and do not harm other plants on the flower bed. So, you should get a selective formual to directly target the cause of the problem.
Non-selective weed and grass killer has a wide range of effectiveness. They do not target only one species of plants, instead, can have adverse effects on the desired plants. Thus, if you get this product, you better be careful in its application on broadleaf weeds so that the damage can be controlled.
Chemical vs. Natural
The chemical or synthetic weed killer contain fast-acting agents that react quickly in the eradication of weeds from the flower beds. The chemical weed killer is selective and there are fewer chances of damage to other plants. However, if you fail to be attentive towards controlled application, you need not fear about harming the desirable plants in your flower bed.
Natural or organic weed killer is more popular with gardeners and harvesters. These are not manufactured in labs with chemicals rather they have natural ingredients like vinegar or salted water. These herbicides can be specific in terms of working. For instance, the organic weed killer works on weed seeds most effectively and are environment friendly as well.
Form
The weed killer is available in three different forms. For instance, the concentrated solution, granules, and instant spray.
· The concentrated solution is ideal for larger flower beds and yielding areas. If you face intense weed growth, you can prepare more solutions by adding extra concentrate and water.
· The granules look like small pebbles and are most suitable for dry application. You do not have to make a solution or worry about ratios. Instead, you can spread the granules at the desired places to kill the weeds.
· The ready-to-spray or instant weed killer is a ready-made product that requires no mixing or solution preparation. You can spray it on the weed straight from the bottle without disturbing the solution ratios.
Longevity
Longevity or effectiveness is yet another important factor that you should consider before choosing a weed killer for the flower bed. The weed killer that stays longer on the weeds will have more long-lasting effects. However, if the liquid or granules wash off with water, the effectiveness is compromised as there is less absorption. So you better choose a product that prevents weed growth for an elongated period.
FAQs
1: Are Weed Killers Toxic to People and Animals?
If you are using an organic herbicide then it is not much toxic to people and animals. However, if you are using a chemical or synthetic weed killer then you should prevent human and animal contact in the area of application for a while. The chemicals can harm your pets and children.
2: Are Natural Weed Killers Effective?
Yes, the natural weed killers are effective but the results can be a bit slow as there are no chemical reactants. Moreover, the organic weed killer is to be applied to the seedlings and their effect may be weak on the fully grown weeds. So, it will be highly effective if you apply the natural weed killer before planting the flower bed.
3: What Kills Weeds Permanently?
If you are inclined towards natural options for your garden, then vinegar kills weeds permanently. However, for chemical options, you can use regular bleach or chlorine bleach for the permanent eradication of weeds from the flower beds.
Conclusion
The flower beds have to be presentable and all groomed to give a pleasant look to your garden. However, the weed invasion can disrupt the look of your flower bed. If you pay heed to its maintenance, you can avoid this problem. Be consistent in taking care of your garden if you want to enjoy a pleasant view of the lawn every time.
For this purpose, you can use weed killers for preventing weeds growth. Make sure, you use the right herbicide according to the plant and soil type of your garden. You can select from liquid concentrates, granules, or ready-to-spray weed killers. Also, opt for products with extensive longevity for far-fetched results.
Thus, organic and chemical weed killers can help you kill weeds permanently and prevent new weeds. However, to avoid damage to your established flower bed, try and get the selective herbicide as they are safer while the non-selective weed killers can be harmful to the wanted plants along with the weeds. Plus, you can prepare some DIY solutions with kitchen ingredients to avoid excessive chemical usage.